About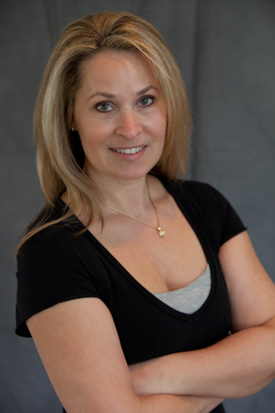 Leslie Cover
Owner – Instructor
Leslie, an enthusiast for all forms of movement, has always been involved in fitness, such as tennis, boxing, snowboarding, and yoga. Her search for greater flexibility and strength led her to Pilates in 2004… and it's no surprise she was immediately hooked! From her first session, Leslie became very passionate about Pilates and wanted to share this enjoyment with others. As a mother of five, she approaches her teaching with compassion and intellect. She brings clear explanations of Pilates principles instilling confidence and trust among her clients. Her greatest joy comes from showing people how Pilates relates to their daily life, helping to eliminate pain and create strong flexible bodies. Leslie studied with world renown Master Teacher Dorothee VandeWalle and received her certification from Metropolitan Pilates in Seattle.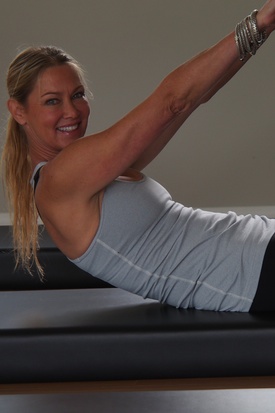 Tracey McCarthy
Instructor
Movement and teaching have been an integral part of Tracey's life. After earning her BA in dance at Columbia College, she was admitted into the prestigious Shirley Mordine and Company dance troupe in Chicago. Tracey taught fitness for nearly 20 years, during which time she discovered and fell in love with Pilates. After several years of learning and practicing, she became a certified Pilates instructor under the rigorous tutelage of master teacher Dorothee VandeWalle. Tracey adheres to the authentic Joseph Pilates system of exercises, assessing the body in front of her and tailoring the technique to the needs of each individual client. Her passion for Pilates, enthusiasm in teaching and classical training produce profound results for her clients.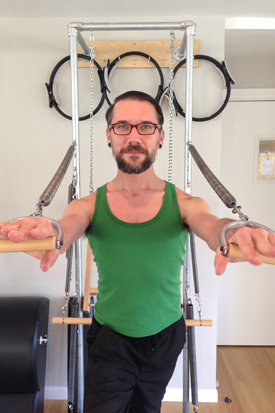 Christopher Blackburn
Instructor
Christopher was trained by Dorothee VandeWalle at Metropolitan Pilates and was certified in the Spring of 2006. He is an enthusiast who enjoys teaching the classical method of Pilates as well as practicing it. His background ranges from gymnastics, acrobatics, dance and nutrition. Chris' infectious laughter will help to inspire you during his challenging and core building workouts.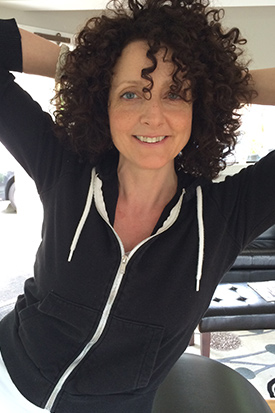 Clare Kennelly
Instructor
Clare has been studying and instructing Pilates for the past ten years. She became certified in Authentic Pilates at Metropolitan Pilates in 2007 and has worked there alongside master teacher, Dorothea Vandewalle ever since. She has a wide variety of movement experience including dance and numerous sports and is known for her highly individualized workouts. She is happy to have joined Leslie and the great staff at MI Pilates.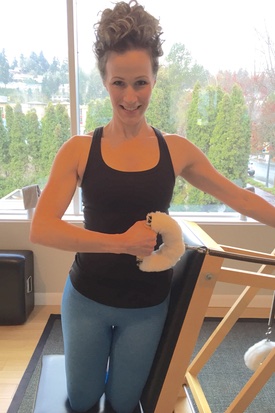 Misty McLean
Instructor
Misty was trained under Master Teacher Dorothee Vanderwalle. Misty believes that the practice of Authentic Pilates can be life changing. This method of overall fitness strengthens the mind, body and spirit. She has experienced this in her own life, and is grateful to have the opportunity to share this work with others. Misty has a positive energy and an eye for detail. These overflow in her enthusiasm for Pilates and in her teaching style.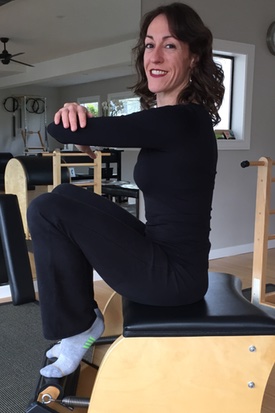 Kate Kingery
Instructor
Kate was raised in Denver, Colorado by very active parents. She grew up hiking, skiing, playing sports, dancing and singing. After studying music and competing in collegiate sports at Carleton College in Minnesota, she followed her passion for dance and ultimate frisbee to Chicago, where she discovered and fell in love with Pilates. She taught mat classes for years before being introduced to the reformers.
Kate moved to Seattle to pursue her dream to play with the top women's ultimate team Seattle Riot, which she now plays on and captains. She discovered Seattle was a perfect place to enhance her Pilates education. She trained with Dorothee at Metropolitan Pilates which focused and reinspired her teaching style. As an athlete herself, Kate will challenge you physically and mentally during every workout.
Kate feels fortunate to be teaching in this beautiful studio at Mercer Island Pilates with this world class group of instructors.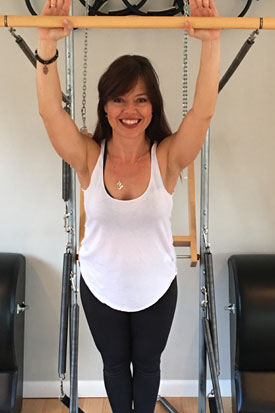 Kim Hamilton
Instructor
Kim has been teaching for almost 10 years, and loves Pilates more than when she started. She trained at Pilates Seattle International, and is certified through Romana's Pilates. Kim genuinely believes Pilates is good for everyone, regardless of age or physical fitness. Her workouts are tailored to the client in front of her whether it be working around an injury or training an elite athlete.
She also enjoys being the student herself. Taking lessons and keeping up on continuing education are top priorities. Staying strong and flexible helps her to enjoy all the wonderful outdoor activities we have here in the Great Northwest.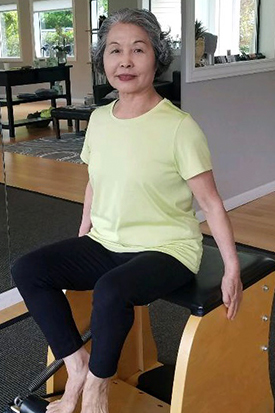 Sachiko Glass
Instructor
Sachiko first encountered Pilates at a dance medicine seminar in Los Angeles in 1992. She had been practicing physical therapy for 10 year at the time. She immediately recognized the Pilates system to be a powerful adjunct method that could be utilized in physical therapy for sports and dance injury rehabilitation conditioning exercises, functional postural restoration, and as movement augmentation tools.When the very first Classical Pilates Certification Program on West Coast was offered in Seattle in 1993, Sachiko joined the first apprentice group, and underwent rigorous training by Romana Kryzanowska, a protégé of Joseph Pilates, the founder of Pilates system. After receiving her certification in 1996, she integrated Pilates exercises and apparati into her physical therapy practice, with very satisfactory results. In late 2017, Sachiko retired from her physical therapy practice of 34 years, and entered a new chapter of her career, now as a Pilates instructor. Sachiko seeks to learn the true essence of Pilates teaching. She continues to study under master teachers in Seattle and elsewhere. She is very happy to be teaching at Mercer Island Pilates, a serene and beautiful studio very close to home.
When Sachiko is not at the studio, she is either tending her vegetable and flower gardens, or playing with her six grandchildren.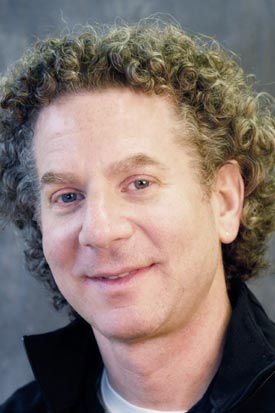 Rick Morris
Instructor
Rick Morris was certified to teach Pilates by Romana Kryzanowska in 2000, after completing his apprenticeship at Pilates Seattle International with Lauren Stephan and Lori Coleman Brown and with Dorothee Vandewalle. In 2000, Rick left a career in human services and began teaching at Pilates Seattle International. In 2003, Rick joined the teaching staff at Metropolitan Pilates. Rick also keeps busy as a substitute teacher at several venues around town and a guest teacher out of town.
Rick is certified by Romana Pilates and is current with all continuing education requirements. Rick strives to improve and develop his skills as a practitioner and teacher of Pilates through a discipled Pilates practice, continuing education, working with fine teachers and working with diverse and wonderful students.
Joe Pilates wanted his system of body conditioning accessible and practiced by all. Rick embraces this goal in his teaching, guiding a workout suitable for each individual based on their fitness level, injuries and conditions, goals and potentials
Rick's exercise background includes running, cycling and street skating. Rick believes in maintaining health, wellness and longevity through a disciplined Pilates practice and a diet of seasonal and local food. Rick is a passionate supporter of local farmer's markets.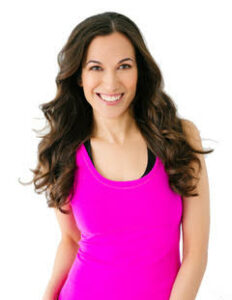 Carmela Ramaglia
Instructor
Carmela Ramaglia is a passionate Pilates devotee who just can't seem to retire from teaching! Certified by Joseph Pilates protégée, Romana Kryzanowska, Carmela has 20 years of experience practicing and teaching Pilates, including running her own studio. She has explored all different "types" of Pilates in her journey and truly believes that the Classical/Authentic Method provides the best results.
When not in the studio, Carmela helps women (and a few good men) create a body and life they love through her body image and weight loss company. And as a professional actress and commercial print model, you may have even seen her on TV! Book a session with Carmela and discover your inner strength!